FLAGSHIP We R 3C™ PROGRAM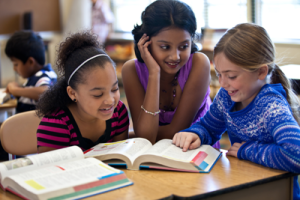 The We R 3C™ Curriculum presents a holistic approach to Character Education and Development as it relates to the topic of pro-social behavior and bullying within varying communities. We R 3C™ provides participants the opportunity to build upon their knowledge, and practice the skills they acquire through the use of sequential, interactive, engaging and processed-based lesson plans and activities.
The components of each lesson are:
Interactive visual presentations of PowerPoint or QuickTime movies
Scripted Curriculum and Talking Points for the Theme Leader
Individual, small group or whole group activities
A Happening Celebration
Follow-Up Exercises and Discussion Tips
Types of Communities
The We R 3C™ Program is not just about defining respect, kindness and compassion, it's about demonstrating them! Each theme implements learning and doing, and culminates in a "Happening Celebration" – an event within your specific community that celebrates the relationships and positive behavior accomplished!
Recognizing the value of love and indifference with others
Hurting, Healing, Apologizing, Forgiving & Resolution
Learning to Value Oneself & Develop Self Confidence
The Meaning of Disrespect & How to Forgive
The fifth theme, Communities within Communities, contains additional materials that apply the learning from the first four themes to smaller communities within your specific community:
Schools
Family : Home School Organizations
Youth Organizations
Special Needs Groups
Businesses
Faith-Based Organizations
YOURS TO REVIEW AND TRY WITH YOUR DIFFERENT COMMUNITIES.
Lesson 1A is only the beginning of a powerful, engaging, and universally appropriate sequence of process-based Lessons that will enhance your life and the lives of those around you by learning and participating in demonstrations of respect. Each Lesson following the foundational Lesson 1A are equally as exciting, unique and socially relevant. Because the Lessons build on each other, you will find the review of previous Lessons helpful and the launch of new concepts and methods easy to incorporate. Program Language and Program Process Points flow out of and through each Lesson and Theme. Make them part of your life and enjoy the rewards of living "the meaning of respect!"
We hope you find that Lesson 1A helps you to understand the mission and vision of We R 3C, Inc. and encourages you to become participants in the full We R 3C™ Program.
Click here to add your own text